Single-Hung Window Replacement
Benefits of the single-hung window from Custom Vinyl Products LLC
Single-hung windows are a durable, attractive, and highly functional option.
Most window replacements start by choosing the window style that best fits your home. Once you've chosen the correct style you need to make sure the actual windows are well constructed to be both attractive and highly functional. At Custom Vinyl Products LLC, our custom vinyl windows are beautifully constructed and durable with our single-hung windows being no exception.
Our single-hung window combines state-of-the-art window technology for maximum performance with classic styling for timeless beauty. Contact us today and schedule your free estimate in Poquoson, Yorktown, Newport News, and nearby Virginia and North Carolina!
Related Videos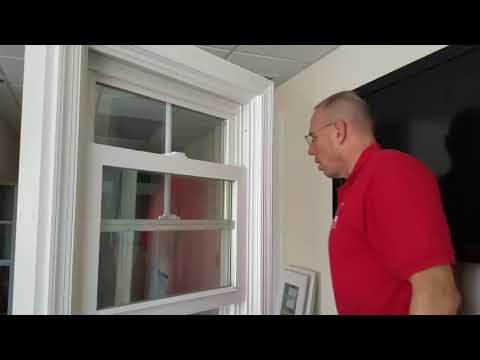 Double Hung vs. Single Hung Windows: What's...
Are you hung up over the difference between double and single-hung windows? No worries! Barry has all the... Watch Video »
Versatile design and quality materials
The lower sash can be raised to let in fresh air, while the upper sash is fixed. This window features equal glass sizes, a design element that streamlines fabrication and enhances the window's traditional good looks. It is available in cottage or reverse cottage sash styles.
The "family" design of this window series means it can be fabricated into many different configurations by using sashes and supplemental lineals from within the window profile group.
A mark of superior quality, color-stabilized, in-house vinyl formula adds outstanding stain, fade, and impact resistance to our windows.
Our window systems are independently tested and audited for certification by the American Architectural Manufacturers Association (AAMA) and the National Fenestration Ratings Council (NFRC). They also meet or exceed Energy Star® standards. Learn more about our partners.
For detailed product documentation, view the technical specifications page.
Frame & Sash Details
Frame
Maintenance free vinyl construction
Welded corners
Optional integrated nailing fin with welded corners for new construction
Sloped or pocket sills
Exterior and interior accessory groove or integral J-channel and interior accessory groove
Sash
Maintenance free vinyl construction
Welded sash corners
Lower tilting sash
Interlock at check rail
3/4" Low-E with Argon insulating glass
Weatherstripping
Dual seal weatherstripping
Bulb weatherstripping at the bottom of lower sash
Get started right with a free cost estimate!
Want a streamlined, attractive, and customizable replacement window? The single-hung windows that we manufacture at Custom Vinyl Products LLC are perfect for your home! Not only do they boast impressive specs, they also come with our lifetime limited warranty! Contact your replacement window experts at Custom Vinyl Products LLC today to request your free estimate in Poquoson, Yorktown, Newport News, or nearby Virginia and North Carolina.
Looking for a price? Get a no cost, no obligation free estimate.