Vinyl Replacement Windows Installation in Newport News
Windows in various sizes and styles can be combined to let in more light and increase ventilation.
Vinyl windows are a popular choice for window replacement because of their great value and excellent energy efficiency. Custom Vinyl Products LLC offers a wide selection of custom built, energy-efficient vinyl replacement windows manufactured in our own facility in Newport News, VA, plus professional installation. All of the vinyl windows we install are custom-made to fit your window openings perfectly.
Call us at 1-866-671-0201 or click below to schedule a free in-home consultation and estimate for window replacement in Yorktown, Newport News, Poquoson or nearby.
Learn more about the replacement windows we install to find your perfect fit.
Vinyl window materials
Not all vinyl windows are created equal. There are two different types of vinyl, PVC and uPVC, and the type of vinyl used in the window has a direct effect on the quality of the product.
PVC - Typically, vinyl windows are made out of a compound known as polyvinyl chloride, or PVC for short. In general, PVC can be difficult to push through the dies, in order to make the extrusion. To aid the PVC through the dies, plasticizers are added to make the compound more pliable. While plasticizers aid in the production of the extrusion, they can have some adverse side effects as well. Plasticizers can make the vinyl itself very dense and brittle, thus making the final product susceptible to cracking and the effects of ultra-violet light. This is not exactly the type of product most people would want in their home.
uPVC - Unplasticized-polyvinyl chloride, or uPVC, is the alternative option and our preference. With this compound, no plasticizers are added. Instead, other additives are mixed with the compound to provide protection from weathering, impact strength, and aid in the processing of the material. The final product is stronger, longer lasting, and will fight the effects of Ultra-Violet light. Custom Vinyl Products LLC is proud to offer several lines of windows using uPVC. Over the years, we have come to enjoy the benefits of offering these products, and we think you will too.
Advantages of vinyl windows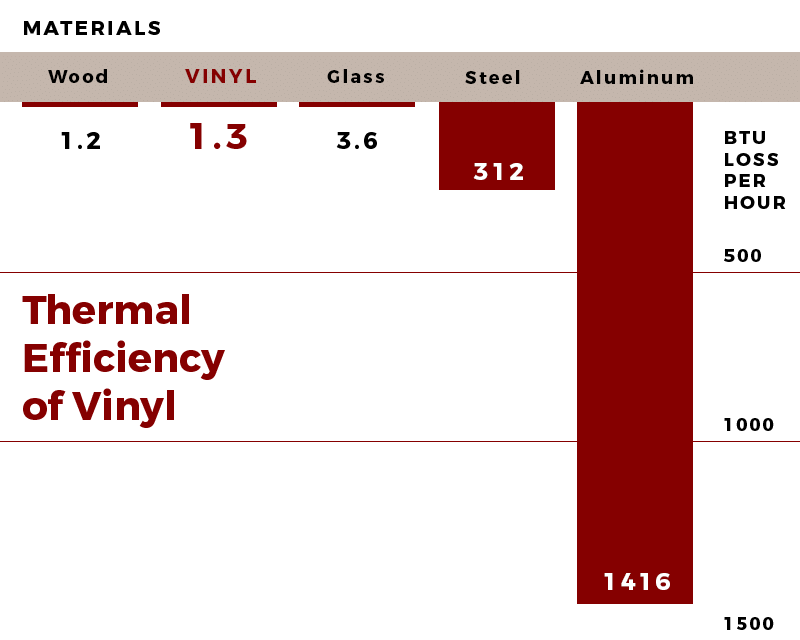 Vinyl windows lose less energy than almost all other window materials.
Maintenance free: Vinyl windows never have to be painted, scraped or stained and can be easily cleaned. Made from polyvinyl chloride (PVC), vinyl windows are durable and won't rust or corrode.
Affordable: Vinyl is the least expensive window material. The cost of vinyl replacement windows is much less than other types of windows, yet they will last longer, save more on energy bills and require less maintenance.
Variety: Vinyl windows come in many sizes and colors to match the interior and exterior of your home. They are also available in a variety of window styles, such as bay, casement, and picture.
Energy savings: Vinyl windows keep heat in during the winter and out during the summer, reducing your heating and cooling costs. ENERGY STAR® qualified triple-pane vinyl windows can provide maximum energy efficiency and noise reduction.
Get your free vinyl windows estimate
At Custom Vinyl Products LLC, we understand the challenge of choosing the best vinyl replacement windows for your home. During your free in-home consultation, we take the time to provide you with personalized recommendations and answer any questions you may have along the way. Call or email us to schedule your free, no pressure estimate today in Seaford, Gloucester, Hampton, Williamsburg, Toano, Virginia Beach, Chesapeake or nearby!
Looking for a price? Get a no cost, no obligation free estimate.